The 2021 Northwest Amateur tournament is being held from Thursday, July 29th to Sunday, August 1st. During this event, the course will be closed to play except for those participating in the tournament. As a membership, we can't overlook how fortunate we are that hundreds of participants travel to Spencer to play in each year's tournament. The Northwest Amateur is a successful event, in part, because of the many volunteers who make it possible. Volunteers are needed each day for outdoor grilling and for helping to post scores in the breezeway. Sign-up sheets will be available in the clubhouse, or you may contact Deb to inquire about times in which we will need help.
For more information, contact Adam or Deb, or visit the Northwest Amateur website.
– View Tee Sheets and Tee Times
About the Northwest Amateur
1921 marked the inaugural year for the Northwest Amateur Golf Tournament at the Spencer Golf and Country Club. That year also marked the beginning of Iowa's second-ever golf tournament, the first being the Iowa Amateur. Today, there are well over 100 tournaments held annually in Iowa, but in 1921, 60 people converged on Spencer's new course to inaugurate what was to be the first in over 90 years of prominence.
When the country club first conceived of the idea of holding a tournament, it appointed a tournament committee headed by Walter H. Thomas. Working with Thomas were Carl Fee, W.W. Cornwall, E. Taggert, J.P. Gable, and W.C. Barton. Through the committee, a match-play tournament sprung. Topping the group of 60 in the inaugural event was Warren Dickinson of Des Moines, a former state champion. Lee Herron of Des Moines, who went on to win the next three tournaments, took the runner-up spot the first year.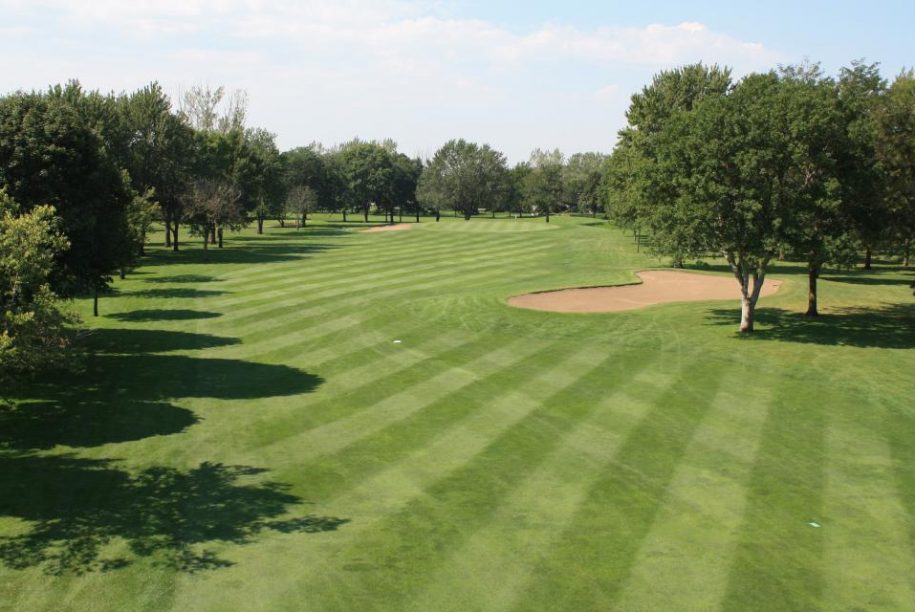 The early efforts of committee chair Walter Thomas lead to the surge of the Northwest Am's popularity. According to his son, Tom Thomas, Walter used his newspaper contacts through the Des Moines Register to give the tournament state-wide prominence. "In those days, we got more publicity than any other tournament in the state," Tom Thomas said. "Give credit to Dad. He made sure we got more publicity than anyone else." Walter Thomas continued as tournament chairman until 1939 when Jack Kirk took over. Kirk served for four years, Thomas served another two, and then Emory Snyder took the helm through 1963. Other tournament chairmen were Ozzy Osborn and Bob Woods. In 1997 Bob Rose took over the position and held it for 17 years. The present-day chairman is Bill Zinn. Thomas also donated the first trophy to the tournament. The traveling trophy was appropriately named after Thomas. Thomas was also a three-time champion. "You can't compare him to today's golfers," said Tom Thomas. "He was an irons man. He hit them where they paid off."
Blaine Asher was another prominent Spencer competitor in the Northwest Am in the early years. He was a finalist five years in a row and won in 1926 and 1927. According to an article in the July 1964 edition of The Iowa Golfer, Asher also holds the distinction of being the first in the tournament to have his caddie lug around a stool for him to sit on while waiting on other players. It's said that he pulled out a magazine each time he sat down. Medal play was introduced to the tournament in 1931. Walter Thomas and Dick Tang of Fort Dodge battled it out in the finals that year, ending in a 287 tie. They were still tied after 17 holes, but Tang won on the 18th play-off hole after Thomas missed a four-foot putt.
Throughout history, the Northwest Am has earned respect as Iowa's only 72-hole tournament. It's also a regular stop for amateurs hoping to earn points towards a state amateur championship.
The record tournament score stood for many years at 270, first being shot in 1958 by Denison's Bob Leahy and then two years later by John Liechty of Marshalltown. The mark was matched a third time by Ryan Vermeer of Omaha in 1999. Then Curtis Holck of Mason City shot back to back 270's in 2004 and 2005. In 2011, Kirby Pettitt of Carroll bested it by one stroke with a 269. In 2014, Ben Wollam of Marshalltown played the par 4's 15 under par and set the current tournament record at 268.
Throughout its over 90 years, the Northwest Amateur Golf Tournament has survived the moving of the country club. It has seen many faces come and go, while others seem to come back year after year. But no matter what period in the tournament's history you look at, it has always attracted a lot of attention with its mix of superb golfers and casual weeknight warriors. "I can remember when we moved to town in the '50s, watching (the tournament) was the thing to do in town when it was happening," said Bob Rose. "It was great to watch top-notch golfers at that time."